Students catch the latest news on the big screen TV donated by Mr. Claude O'Connor
Search the Card Catalog
Check out the Library Schedule/Calendar

>LIBRARY HOURS MONDAY-FRIDAY 7:00 am - 3:30 pm

Use of the Media Center
Students may use the Media Center before, during, and after school. Arrangements can be made with Ms. Graham to open the Media Center earlier or later if needed.

The media center is open to all students during break and lunch waves. On Tuesdays and Thursdays, quite a few students enjoy playing chess during these times.

Students are welcome to use the Media Center for any educational purpose such as: conducting research with one of our 15 Internet ready computers or reference section, use desktop publishing software, create multimedia presentations, studying or reading books and magazines for pleasure.
SCHEDULING
Teachers are encouraged to schedule their classes and bring them to the Media Center for research, to check out books, use our big screen TV to show video clips or Powerpoint presentations and many other activities.

All scheduling should be handled through Ms. Graham or Mrs. Williams and a calendar will be kept for this purpose.

Advance scheduling is desired. Teachers should give at least a 24 hour notice when scheduling classes.

Classes will be scheduled in 40-45 minute periods of time. There will 2 periods during each block.
RESOURCES AVAILABLE
Books- Reference Section, Fiction, Non-Fiction, Biography, Story Collection

Magazines: Current with back issues

Newspapers-Mobile Press Register and The Islander (USA Today to come)

Online Research - 18 Internet Ready Computers

Big Screen TV- Cable, DVD, VHS, PC projection,

Audiovisual Equipment- Overheads, DVD Players, TVs, Stereos,

Teacher Work Area- Laminator, Ellison Letter Press, Bulletin Board Paper

Audiovisual Materials- VHS, DVD, CD-ROM

Copy Machine- 10 cents per copy

LCD Projector- with Laptop

Our card catalog(Atrium) is available in all classrooms on student computers and on library computers. It contains the complete GSHS Library collection of books, videos, DVDs, books on tape, and equipment.
GET CAUGHT READING!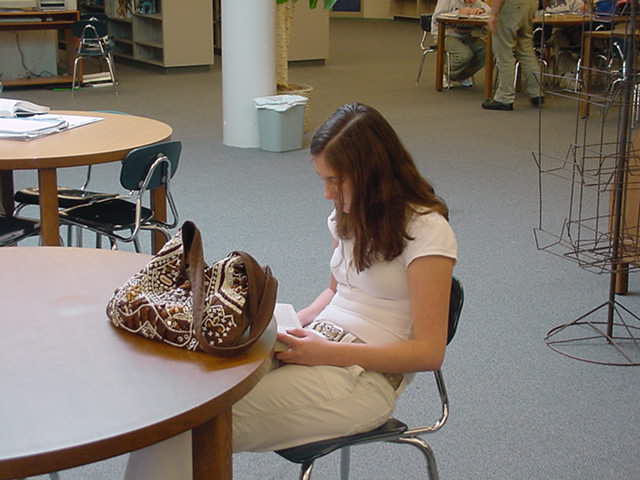 Students are encouraged to use the computers in the Media Center for class research and desktop publishing needs. PLEASE REMEMBER: NO GAMES, CHAT ROOMS, or EMAIL ALLOWED IN THE MEDIA CENTER. DOING SO WILL RESULT IN LOSS OF COMPUTER PRIVILEGES.
Alternative Ideas to Book Reports
Do a monologue. Pretend to be a character from the book. Tell the story. You can do this aloud or on paper. If you pick someone other than the main character, you may find the story looks different from your eyes than it does to the main character. After all, the bad guy might not see himself as being so bad!

Scan a chapter into your computer and then make illustrations for it. Remember that the characters need to look the same in every scene and have to wear the same clothes unless they have changed them. After you finish, write or tell what you learned about being an illustrator. Read some books or articles on illustrators to learn more about their jobs

Write a new ending for the story, or add an extra chapter. This is especially good if you hated the ending. Remember, you have to use a similar style and the ending has to make sense with the rest of the story.

If the story involves travel, map out the journey with illustrations of what happened there

Try doing a series of newspaper articles or television news stories on the book. This is especially good for non-fiction books. You can even videotape the reports.

Make a mural showing scenes from the book with captions to show us what the picture is about

Read a book about a place. Pretend you work for the tourism bureau of that place. Create ads and commercials to get people to come to that place. Look at some web sites put together by places to get ideas. How would you create a campaign for your own city?

Comic Strips and Cartoon Squares: By creating comic strips or cartoon squares featuring characters in books, they're encouraged to think analytically about the characters, events, and themes they've explored in ways that expand their critical thinking by focusing on crystallizing the significant points of the book in a few short scenes.

Write the first paragraph (or two) for a sequel. Outline what would happen in the rest of book.

Make a diorama showing the setting or a main event from the book.

Cut out magazine pictures to make a collage or a poster illustrating the idea of the book.

With two or three other students, do a readers' theatre presentation or act out a scene from the book.

Write a book review for publication a the website.

Draw a comic-book page complete with bubble-style conversations showing an incident in your book.

Prepare a list of 15 to 20 questions for use in determining if other people have read the book carefully

Create a glossary containing 20 or more difficult words from the book.

Make a crossword puzzle using ideas from a book. Need at least 25 entries.

Make a comic strip of your story.

In The Catcher in the

Rye

, Holden Caulfield describes a good book as one that "when you're done reading it, you wish the author that wrote it was a terrific friend of yours and you could call him up on the phone whenever you felt like it." Imagine that the author of the book you read is a terrific friend of yours. Write out an imaginary telephone conversation between the two of you in which you discuss the book you read and other things as well.

Make a time line of the major events in the book you read. Be sure the divisions on the time line reflect the time period in the plot. Use drawings or magazine cutouts to illustrate events along the time line. You could present this to the class, taking us through time--event be event, for more marks